5 years ago, former Denver Broncos wide receiver Vance Johnson was grappling with addiction. "In early 2014, I was drunk and driving down the road, crying and screaming to God to help me. I had no money, no kids, no relationships, nothing to leave behind." Today, Johnson is sober and encouraging others to get clean. He speaks nationwide, detailing his long struggle with mental health and addiction. Vance recounts his struggles, but also provides hope by describing how he was finally able to sober up. Oglethorpe Inc is extremely excited to welcome him to the company as our Recovery Ambassador. Johnson will travel to all our facilities, offering support where possible and inspiration where needed.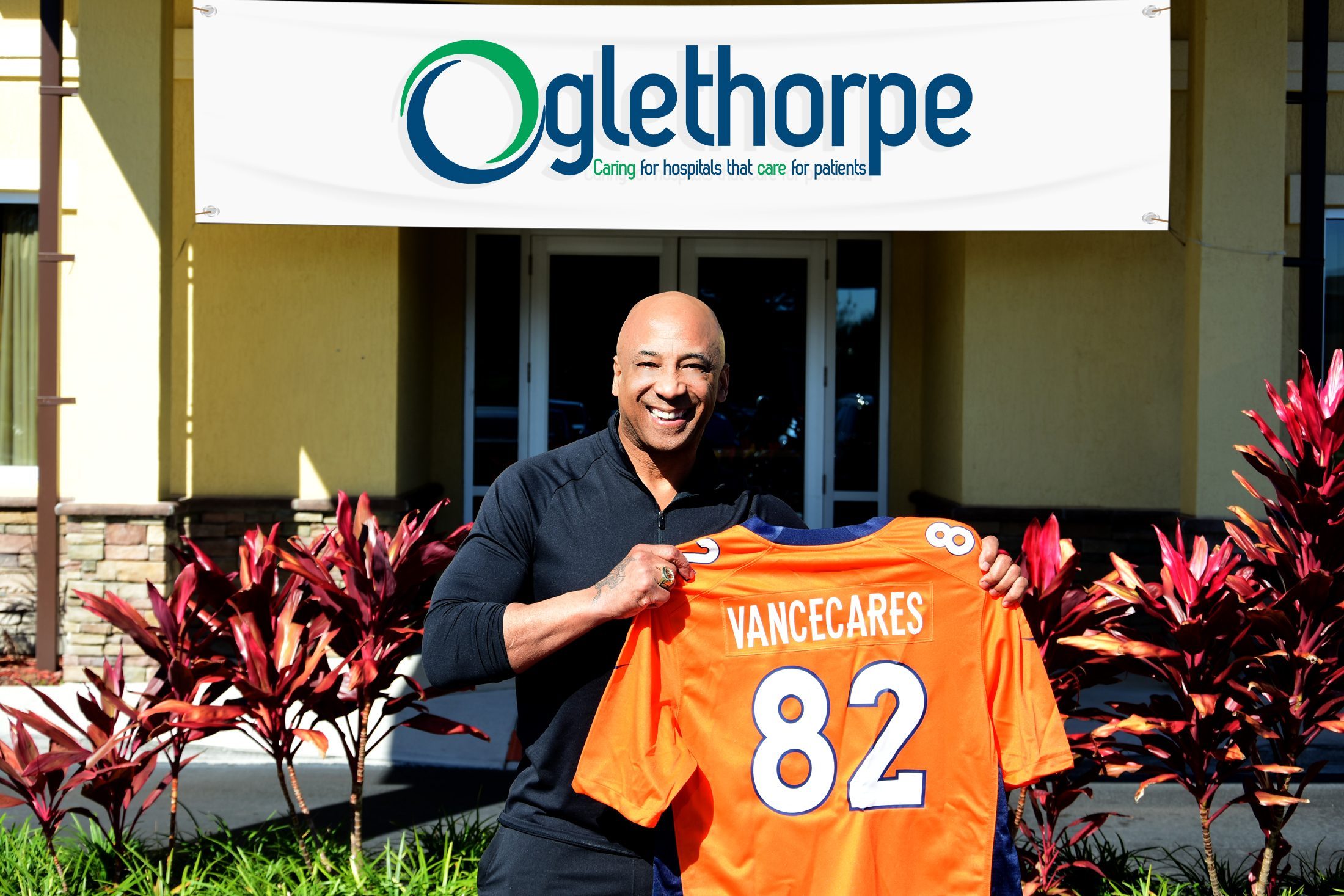 Vance's Recovery Journey
Before his appointment as Recovery Ambassador, Johnson shined in athletics. He debuted as an Olympic hopeful in track but soon decided to pursue a career in football. He joined the Denver Broncos in 1985, playing as a wide receiver for 10 years. Johnson also captured the nation's heart as one of the "three amigos", alongside Ricky Nattiel and Mark Jackson. However, his tough childhood and distressing home life eventually caught up to him. He soon found himself on a difficult path of depression and addiction.
When his college-aged son died prematurely, Vance spiraled even further, eventually landing in a coma. However, with the help of his faith and a treatment center, Vance was finally able to turn his life around. Johnson credits his faith in God as the catalyst he needed to get clean. "It is my purpose and passion to inspire those who, like me, found themselves powerless, broken and looking for a breakthrough. Everyone deserves a second chance. Inspired by true faith in a risen savior, I look to inspire others to take back control of their lives."
The Vance Johnson Christian Recovery Program
In addition to his role as recovery ambassador, Johnson will help create a Christian Recovery program. The pilot program is currently being offered at The Blackberry Center in St. Cloud, FL. However, the aim is to expand the program into all of Oglethorpe's facilities.
The Christian Recovery Program is available to anyone who is open to a relationship with God. According to Johnson, "The curriculum promotes spiritual growth and healing in a community setting, while also teaching individuals to hold themselves accountable throughout their recovery. By feeding your faith, we hope that your recovery will finally take root and grow." Through the program, patients will get access to an individualized substance abuse treatment plan. They will be supported every step of the way by our dedicated clinical staff. On top of that, the comprehensive faith-based drug treatment program offers:
Individual Biblical counseling with a licensed minister

Small pastoral led group studies

Daily devotionals

Bible studies

Prayer and meditation morning gatherings

Group therapy

Recreational therapy
The Vance Johnson Recovery Center
Johnson is also partnering with Oglethorpe to open The Vance Johnson Recovery Center. The facility, located in Las Vegas, Nevada, will offer detox services and addiction treatment. Some of the therapies offered include:
Individual therapy

Medication-assisted treatment

Family or couples counseling

Addiction education

Skills-building sessions

Follow-up care

Referrals to support groups
The residential treatment center opens in June 2019. The Vance Johnson Christian Recovery Program will also be offered at the Nevada facility. For more information on the Vance Johnson Christian Recovery Program please call 888-82-VANCE.